Daniele Nicole Kidman's Sister?
According to sources, CBS Big Brother 8 house guest, Daniele Donato, is currently under consideration for a major film role where she would play the sister of Nicole Kidman in a yet to be named film. Donato, who will be 21 in August, is currently in competition for a $500,000 prize with 13 other people.
The film is a suspense-comedy which takes place in the 70'2, and follows the story of two sisters brought together following the death of the older sister's husband. The film takes places in Maine, although the majority of filming would be done in California, beginning in late October.
Other rumored cast members include Dakota Fanning as the youngest sister, in a small role, and Joanne Woodward as Kidman and Donato's mother.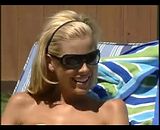 Daniele Donato (2007)




Nicole Kidman (2005)